Location, Location, Location
On August 20, 2013, Center for Hospice Care and Hospice Foundation officially opened their new Mishawaka Campus. Nestled between the beautiful northern shore of the St. Joseph River and the soon to be renovated Central Park, the organizations' new home perfectly compliments the surrounding area. The simple yet elegant exterior of stone, corrugated metal and wood make the building timeless.
"When I first saw the site, I was immediately drawn to the extraordinary beauty of the St. Joseph River waterfront," says Jeff Helman, president of HELMAN SECHRIST Architecture, a firm that specializes in designing high-end waterfront homes. "To be privileged to have a natural amenity such as the river as our primary view contributed to the transparency of the building, allowing us to incorporate views from all spaces, and to include features such as exterior balconies and plazas. The classic, contemporary style of the building is intended to blend with the drama of the river, the adjacent neighborhood, and the park environment to form a place that is both progressive and hopeful for the future, as well as peaceful and serene at the same time."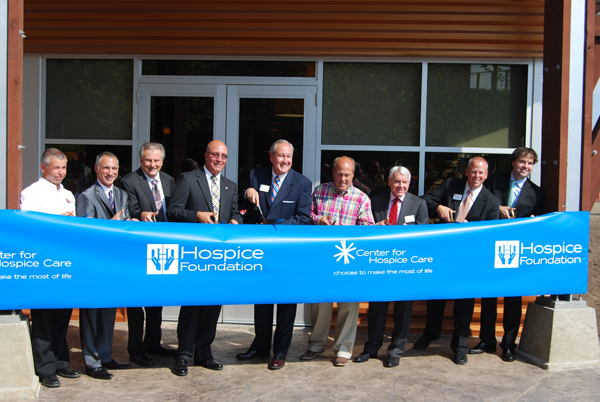 The ribbon cutting ceremony included remarks from Center for Hospice Care President/CEO Mark Murray, Hospice Foundation Vice President/COO Mike Wargo, National Hospice and Palliative Care Organization President/CEO Don Schumacher, Mishawaka Mayor Dave Wood, and former Mishawaka Mayor and current St. Joseph County Chamber of Commerce President Jeff Rea. Following the remarks, the speakers were joined by Center for Hospice Care Board of Directors Chairman Corey Cressy, Hospice Foundation Board of Directors Chairman Terry Rodino, Jeff Helman and DJ Construction Company, Inc CEO Bob Schrock as they cut the ceremonial ribbon. When the ceremony concluded guests entered the building to enjoy refreshments and take tours of the buildings. The event was attended by an estimated 300 people, including government officials; contractors that worked on the building; Center for Hospice Care employees and families, Board Members and supporters; as well as area business owners and neighbors to the new facility.
The western building, located immediately adjacent to Central Park, is the home to Center for Hospice Care's Life Transition Center (LTC), its art counseling program and bereavement counseling staff. The current LTC had been located in leased office space in Mishawaka's Cambridge Center Office Park since 2005. The first floor of the new building also includes a large conference area that can seat up to 165 people or be divided into three smaller, private rooms accommodating any one of a different uses, ranging from staff or board meetings to group counseling sessions and community education seminars. The Hospice Foundation offices are located on the second floor of the building.
An open staircase to the second floor walkway connects this building, the main entry area and the eastern building which houses the administrative, information technology, human resources, accounting, billing, marketing and community relations departments. The first floor of that structure also includes an employee fitness center and an open plan café-style gathering space, great for informal staff interactions, lunch breaks and special events.
At a press conference preceding the ribbon cutting ceremony, Murray commented, "I think that this facility, this location, this remarkable pastoral setting is not only a testament to a tremendous collaboration between Mishawaka and Center for Hospice Care, but also a tangible example of the incredible growth experienced by the philosophy of hospice care."
Along with the growth of hospice care in general, CHC's growth has been steady for the past 10 years, as staff size has doubled in response to an increasing demand for compassionate, skilled hospice care. As a result, additional office space has been required to keep up with the growth. "We've been adding a few thousand additional square feet of office space every few years to the point that we were leasing as much space in St. Joseph County as we owned," said Karl Holderman, chief financial officer. "If you do the math, it doesn't take one long to conclude that owning makes a lot more sense for us than continuing to add more leased facilities."
In addition to the new construction, renovations are taking place in two additional campus structures. A residential home has been remodeled for use as a guest house and the former Edgewater Florist building has been transformed into a new Palliative Care Center. The structures, located immediately across the street from one another at the corner of Cedar and Madison Streets, were acquired as part of what has become a nearly five-acre campus development.
For more information on our Mishawaka Campus plans, please visit our Crossroads Campaign Page. You can also check out our Mishawaka Campus Memorial Items