As the Baby Boom generation ages, the need for physicians board certified in hospice and palliative medicine will continue to grow. In fact, 20,000 physicians are currently needed to meet the needs of the aging population; since 2008 8,197 physicians have been certified in the specialty-level practice of hospice and palliative medicine.
To help meet this need, the Indiana University School of Medicine's Fellowship in Hospice and Palliative Medicine was launched in 2005. This post-residency program provides physicians with in-depth training in the fields of palliative and hospice care and prepares them to be board eligible in this sub-specialty. Center for Hospice Care (CHC), the IU School of Medicine (IUSM) and the Vera Z. Dwyer Charitable Trust are collaborating on an innovative approach to: increase awareness of the need for physicians trained in hospice and palliative medicine; recruit physicians for the fellowship, particularly those with ties to communities served by CHC; and equip them with the skills and knowledge they need to care for those at the end of life.
Thanks to the generous financial support of the Vera Z. Dwyer Charitable Trust, the IUSM was able to add an additional hospice and palliative medicine fellowship in 2017. Since then, three fellows have trained with the CHC medical staff during part of their year-long fellowship. The 2017 fellow, Dr. Kayla Herget, was featured in the Fall 2017 issue of Crossroads.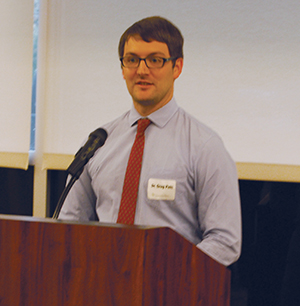 The 2018-2019 fellow, Dr. Greg Pelc, came to CHC in the spring of 2019. He was welcomed as the second Vera Z. Dwyer Fellow at a reception held on CHC's Mishawaka Campus in April. This reception also served as an opportunity to thank the Vera Z. Dwyer Charitable Trust for their generous support. During his remarks, Dr. Pelc spoke about the need for rotations in this specialized form of care and emphasized the significant impact the program makes by providing in-depth education about end-of-life care.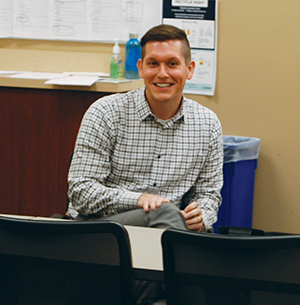 The 2019-2020 fellow, Dr. Collin Bowman, was recognized at a reception at the IU School of Medicine – South Bend campus in November 2019. Dr. Bowman graduated from IUSM in May 2016 and completed a family medicine residency at Indianapolis's Community Hospital East in June of 2019. Dr. Bowman was drawn to the fellowship because of its emphasis on decreasing the physical, mental and emotional pain of terminally ill patients and their families. His background, along with his passion for helping patients near the end of life, are examples of why this program can be so impactful.